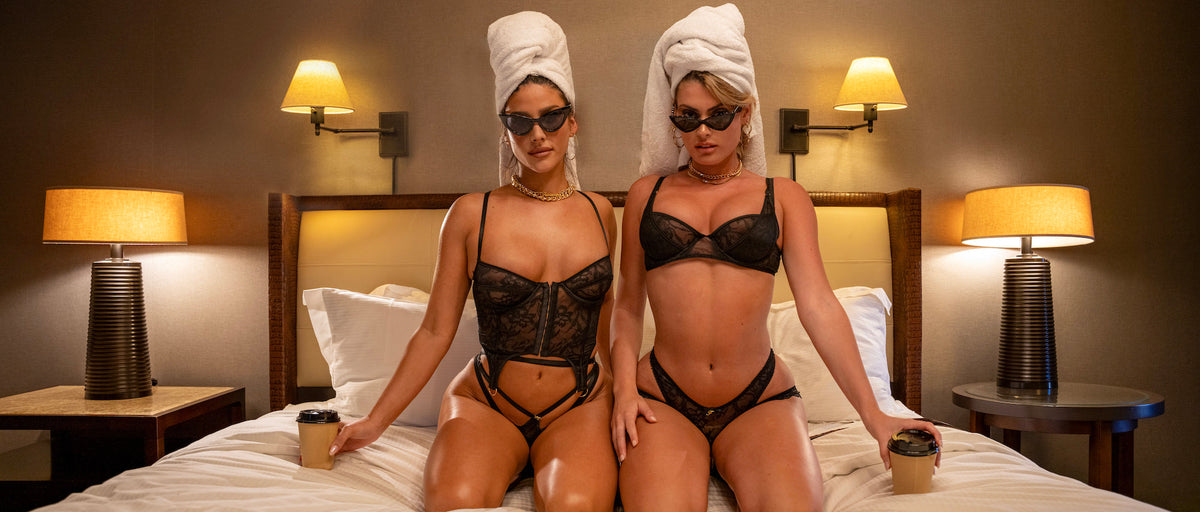 Naughty Nights Ahead - 10 Must Have Lingerie for a Sexy Night's Sleep
Who says sleepwear can't be sexy? At Frederick's, we believe that sexy lingerie is for everyone and any time of the day, even when we're sleeping! We are going to take you through 10 super sexy sleepwear options for outfits you can wear in the bedroom! From sexy pajamas, kimonos and robes to teddies and chemises, the choices are endless. Let's dive in.
Why Should You Consider Sexy Sleepwear?
You may be asking yourself, what's the point in dressing in your sexiest lingerie when it's approaching bedtime? But babe, it's time to step away from the oversize t-shirts and the flannelette PJs and consider getting a sexy night's sleep. There is something invigorating about dressing up in your best underwear at any time of the day; why should bedtime be any different? 
It's been rumoured that men find a woman in pajamas super sexy. Although, we all know that dressing up and enhancing your best assets can boost your self-confidence and can even be good for your mental health. It's down to your personal preference when it comes to your sleeping attire, make sure you're comfortable in whatever you're wearing. If you are looking to spice things up in the bedroom then you will definitely want to keep reading. Or maybe, you want to surprise your lover in the bedroom, buy your partner some date night lingerie for your next rendezvous.
Sexy Sleepwear: 10 Must-Haves
Refresh your sleepwear drawer for your next saucy slumber party. Whether you're looking to grab your partner's attention, give yourself a confidence boost or buy your special someone a sexy surprise, we've got you covered for all your sexy sleepwear needs. 
With everything from seductive PJs to tempting teddies and all that's in between! Here are our 10 must-have lingerie pieces for a super sexy night's sleep.
Babydolls
We suggest a babydoll as a way to mix things up. This is a super sexy take on the classic nightie and a sure way to level up your lingerie game. Whether you want lace, mesh, leather, or even a saucy combination, you'll definitely delight in a babydoll! 
The Rosalina Rose Lace and Satin Babydoll is elegant and alluring. The silky satin hugs to your curves with a low cut back and cross-over straps. The sheer lace gives a tempting glimpse of your cleavage, which is sure to drive your partner wild. It comes with a matching G-string so you can be the full package, in the matching set.
chemises
A chemise is a type of short, often silky nightgown, akin to a slip dress. It's a great way to be sexy in the bedroom and yet still have something luxurious and comfortable to sleep in. These naughty numbers really show you mean business. 
Work your wonders in our Desiree Lace Chemise! This sultry style is the perfect piece to slip into for a steamy night ahead. With see-through lace and underwire detailing, you'll be dressed to impress.
Short PJ Sets
Yes, pajama sets can be sexy too! Perfect for giving the illusion that you are a good girl, PJ sets are classic and classy. Did we mention they are cute to lounge around in and can be just as seductive as an ultra-sexy lingerie set? Imagine showing off those beautiful pins in sexy satin shorts and a matching top, bombshell alert! 
Turn up your feminine allure with our Delphine Short PJ Set. This beautiful silky set in a gorgeous blue color is sure to set pulses racing.
pajama sets
For those of us who can't go past a classic long PJ set – these can absolutely still be sexy and comfortable. Serve up sophisticated glamour in our Classic Harietta PJ Set. This gorgeous set is crafted in silky smooth stretch satin and is sensual and comfortable to wear. 
Why not take some sexy loungewear to the next level with our Summer Lattice Lacing Pajama Set. This sleep set is crafted with the softest satin and is designed with a fashion-forward cross-over strap neckline plunging neckline that highlights your cleavage, provocatively revealing your skin beneath as soft satin cups conceal your modesty.
satin kimonos
You can channel your inner goddess with a stunning satin kimono! We'll have you feeling your best in our simple yet seductive Izzy Lee Robe that can be worn over anything you like – even nothing at all! 
We think you need to give our Harietta Satin Robe a go for your next sexy slumber party. Decorated with contrast piping, this robe is designed to be the last word in sleepwear seduction. Kimonos are cute for lounging, and can really amp up the excitement if you're looking for an unexpected way to undress.
lace robes
Let's not forget about sumptuous and stunning lace robes. When you want to dress down to a saucy robe in the evening then one of our lace robes is a perfect choice. 
Dress to impress in the Aspen Mae Satin and Lace Robe. Although your significant other might think it looks even better on the floor than it does on you! You can complement this saucy number with the matching nightgown to really turn up the heat. 
Make someone's dreams come true in the stunning and sexy Lara May Lace Robe. Sheer mesh shows an incredible silhouette of your feminine curves, making you extra alluring and seductive. You can make a sensual statement with the robe on your own or you can match it with your favorite lingerie underneath.
naughty nightgowns
The nightgown is a timeless classic that never goes out of style. It is an elegant way to perfectly elevate any slumber party. 
We suggest adding some glamour to the bedroom with our Rosalina Rose Lace and Satin Gown. This floor-length satin number is equal parts elegant and sultry – which we think is the perfect combination. 
Why not really turn up the heat with our Laurie All Over Lace Gown? This sensual look consists of stunning black and floral mesh fabric, as well as underwire cups to give your best assets a natural lift. The sexy sheer fabric will have your curves looking fabulous. Warning, this will get temperatures rising!
tempting teddies
Does anything sound better than an irresistible one-piece that is guaranteed to boost your confidence in the bedroom? We don't think so! Look no further, our range of sexy teddies is a great way to get you feeling on top of the world. 
Bring that confidence into the bedroom with a teddy featuring a plunging neckline like the Saffron Floral Lace Teddy. This delicate yet daring floral lace teddy with a scalloped design will beautifully expose your cleavage and delight your lover. 
The Stephanie Lace Plunge Teddy is definitely sure to have you feeling sensual and sophisticated! Or try something a bit more risqué with our Dida Teddy. This naughty number has satin ribbon lace running from front to back creating an open crotch!
Boy Shorts and Cheekies
If none of the previous options are for you then you could always try going topless. Why not sleep in a pair of lace boy shorts and just skip the rest? Our Bridget Cotton Boy Short is the ultimate in sexy comfort. Made from sheer, stretch lace fabric and a lined gusset panel, these boy shorts are perfect for bedtime. 
Keep it cute and cheeky with our Delilah Boyshort. Sultry lace in an array of tantalizing colors – what more could you want?
Sexy sets
If you prefer to keep things simple then we suggest going for a matching lingerie set. You can never go wrong with a sexy set! 
You'll be totally irresistible in the Lily Lace & Chiffon Underwire Babydoll Set. This ultra-feminine and yet super sexy set is made from mesh and floral lace, with an underwire to give support for your assets.
level up your lingerie game with fredericks
So as you can see, Frederick's of Hollywood has sexy sleepwear options for everyone. Whether you are looking to be the ultimate seductress or give a sexy twist on an elegant classic, there is something for you! 
The next move you need to make is getting yourself some of these sexy sleepwear options to really take your sleep game to the next level.
More from show & tell