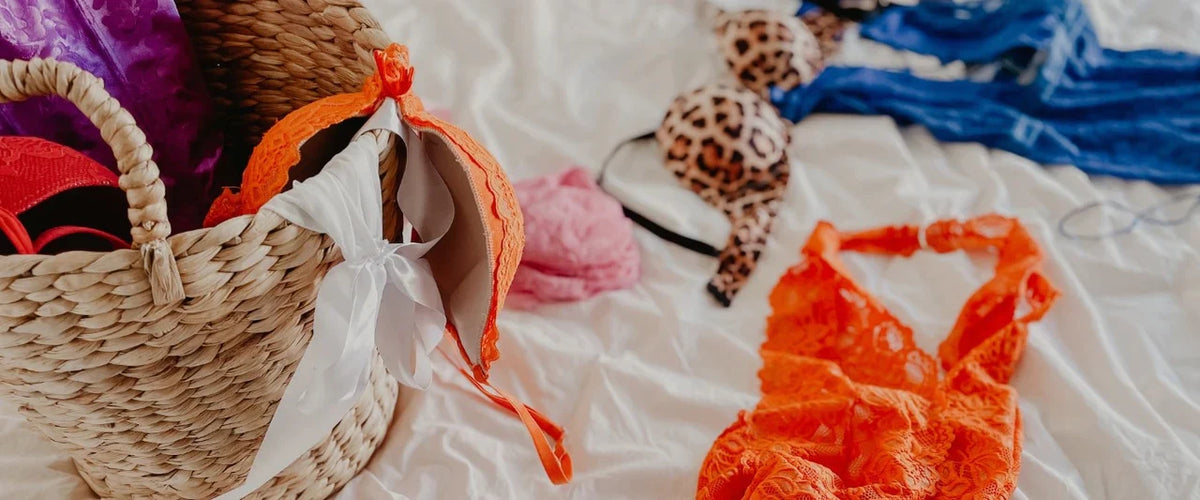 How to Wash and Care for Your Lingerie & Intimates
Taking proper care of your lingerie and intimates is vital to keep them looking fresh, fitting correctly and in a wearable condition for longer. Not to mention fresh and clean lingerie gives you more confidence for all your "streets to the sheets" activities! Caring for your lingerie the right way isn't as overwhelming as you may think. To help, we've compiled the ultimate guide to keeping your bras, panties and other undergarments looking sexy and irresistible.
how often should you wash lingerie?
The frequency of washing will depend on the item, and what you do when wearing it of course!
panties
Panties, including thongs and tangas, should be washed after every wear. Special-occasion wear like ultra sexy lingerie and teddies may need to be washed less frequently, (especially if it's not kept on for long) but it's recommended to wash between wears or storing.
bras & bralettes
Bras and bralettes can typically be worn 3-4 times before washing, so rotate your collection. You may have a selection of bras but only wear a few regularly. We recommend having between 4-7 in rotation and giving them a day or two between wears to let the bras' elastic readjust after wear. 
If you love a particular style, we suggest buying more than one – especially if you're a busty babe. Never fear, our full figure bras are here in sizes 32D – 42F to keep you in your most-loved item.
Does lingerie need to be washed before wearing it for the first time? It's generally a good idea, as it gets rid of any residue from the sewing and manufacturing process.
handy tools for washing lingerie
Looking for a definitive list of everything you could ever need for keeping your lingerie squeaky clean? You found it! A few must-haves are:
Gentle laundry detergent (most detergents are harsh or too soapy, so opt for a detergent that's gentle or even for babies!)
Stain or spot treatment product for lifting stubborn stains
Washtub or large bucket. (your bathtub will do in a pinch)
Lingerie detergent, while not a necessity, could be worth it if you're serious about your lingerie game. Think about looking after your seductive silks and luxurious lace items. Baby shampoo is a popular alternative as it's gentle!
A mesh lingerie bag for those lazy days when you can't face hand washing and use the delicate cycle instead
top tips for washing your lingerie
The general rule for keeping your lingerie and delicates in the best condition is to wash them by hand. Hand washing prevents intimates from being pulled out of shape, straps stretching or underwires getting bent in the rough and tumble of the washing machine. Padded bras hold their shape better and lace, mesh or delicate pieces are less prone to tangling or snagging. To hand wash your lingerie, follow these simple steps:
1. separate your lingerie from your other laundry
Don't learn the hard way that washing your lace panties with a bright red jumper is a no-no. (Be ready for those naughty nights and buy raunchy red lingerie instead!) 
Separate your lingerie from your other washing and sort by like- colors, separating whites, darks and hosiery.
2. read and wash according to care instructions
It might seem straightforward, but your tags will tell you how to care for lingerie. Following care instructions is always a good idea. Not all pieces may need to be hand washed, so it's important to understand and sort lingerie accordingly. 
Cotton panties and basics are typically okay to stash in a wash bag and pop on a gentle machine cycle. 
Unsure how you should care for a piece of lingerie? Here is a handy guide to help you understand laundry symbols on your garments care instructions.
3. Hand washing lingerie
If care instructions specify hand washing, here's your 101 on how to take care of that dirty laundry! 
Fill up a tub. Make sure to choose a large tub, basin or bathtub and fill with cool to warm water. 
Add detergent. Following the instructions of your chosen delicate laundry detergent or powder, use the cap to measure the detergent before adding to water and mix until dissolved or distributed. 
Submerge your intimates. Ensure all items are soaked through before gently stirring the water with your hands. 
Soak. Spread out your lingerie in your tub or sink and soak for 30 minutes. 
Rinse. When your items have soaked, run cool water through the pieces to rinse well until the water runs clear and is no longer soapy. 
Press to remove water. Gently press the water out of your lingerie, taking care not to wring, as this can stretch your pieces.
3. machine washing lingerie
We get it, you might not want to hand wash your lingerie every week! Whether it's a lazy day or you have a lot of laundry to do, here's how to wash laundry in your washer: 
Close all fastenings on your Bras, Teddies and Bodysuits. Ensure all items are soaked through before gently stirring the water with your hands. 
Use a lingerie wash bag. Washing your bras and panties in a lingerie wash bag ensures they won't get tossed through the rest of your laundry. We recommend having a couple on hand - you may even want to separate your garments further e.g. by color or by style. Be sure to zip up the wash bag completely, then into the washing machine it goes! 
Select the delicate cycle. And opt for cold water to avoid shrinking. You don't want your favorite pair of lacy panties coming out a size smaller than they went in. 
Add your detergent. Just like with hand washing your intimates, measure the recommended dosage of your chosen delicate laundry detergent and add it to your washer.
Wash that dirty Laundry. Follow your machine instructions and load size. Include a pre-soak if needed.
Drying Lingerie. Most care instructions on your lingerie will specify tumble drying as a no-no. High heat can damage the elasticity of the fabric or cause items to shrink. When the wash cycle is finished, hang your garments to dry or lay flat on a drying rack. Dry lingerie out of direct sunlight, as the sun can damage elastics and cause colors to fade. Hanging items like teddies, bodysuits and bras on hangers will help items to keep their shape and dry wrinkle-free.
4. Lingerie storage
Once your delicates are fresh and clean, you can let the sexiness continue! Don't just stuff your lingerie haphazardly in a top drawer, here are our top tips for storing your lingerie correctly. 
Use drawer dividers to keep all your items in order. 
Don't fold bras in half. Lay them flat or stack them inside the cup of the other for support, stacking them in a drawer like spoons. Folding your bras can ruin the center piece and contribute to them losing their shape. 
Store special pieces well so they're ready to go when you are.
how to remove stains from lingerie
If you're enjoying some thrills in the bedroom, there's bound to be some spills too. 
Remove stains from self-tanner, body oils, and lotions, makeup by using a targeted stain remover that does not contain bleach. Dab cleaner onto a cloth and gently work out the stain before soaking and wash as normal. 
Sexy stains (yes, from sexual fluid, his or hers) is a protein stain. Don't be embarrassed, these are all natural and are best removed with an enzymatic cleaner like Zout or Oxi Clean. If you have panties with the same problem, you can also use an enzymatic cleaner and soak them before washing.
washing and caring for other delicate items
swimwear
After daring to bare all in our seductive swimwear, rinse your bikinis and one-pieces with clean water immediately after wear, as salt water and chlorine can damage your swimsuit. Cold hand wash with mild detergent and hang to dry.
corsets
Creating flattering curves, our classic corsets should be washed less frequently than other garments. Spot cleaning is recommended for these - lay your corset flat and wipe it down with a damp cloth. Leave lying flat and air dry completely before storing away.
hoisery
Delicately hand wash all your legwear – stockings and pantyhose (and those ultra-sexy bodystockings) following the same instructions as your lingerie. It's a good idea to remove rings and jewelry to avoid snagging when caring for your hosiery. Wrap in a towel to absorb any excess moisture and hang to dry. Hosiery and stockings should be washed every 2 to 3 wears.
level up your lingerie game with fredericks
Shop for lingerie you'll love to look after at Frederick's Of Hollywood. Keep lingerie fresh and flaunt those sexy pieces whenever those steamy opportunities arise. Don't forget, you have to get a little dirty before you can get clean. Shop iconic lingerie at Frederick's Of Hollywood now.
More from show & tell