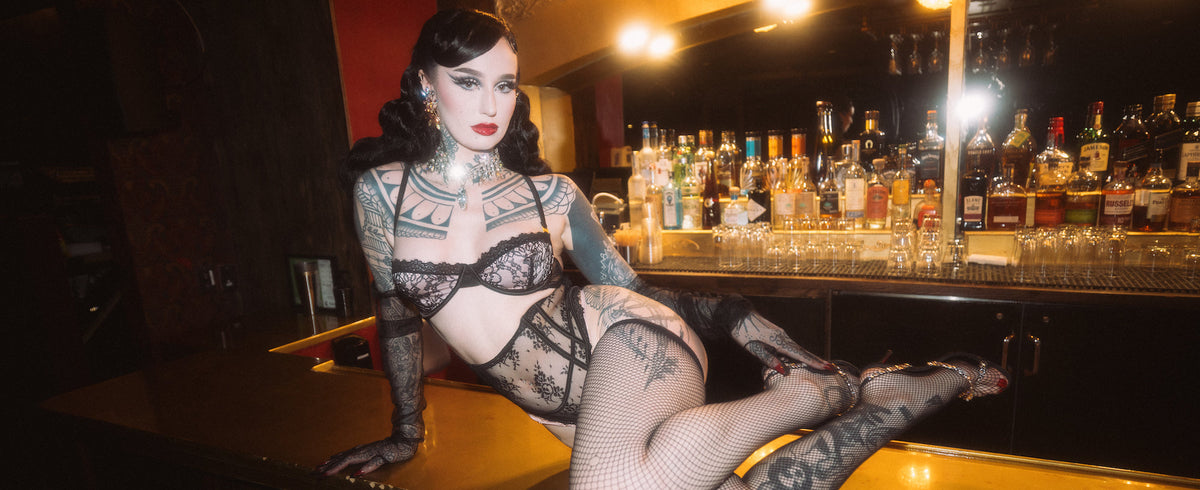 The Beginner's Guide to Sexy Lingerie
Frederick's of Hollywood built its reputation on lingerie that is comfortable and sexy. We empower women to feel confident and powerful every day. Whether you're completely new to sexy lingerie or you want to take your lingerie game to the next level and spice up your next date night, we've got you covered with our beginner's guide to ultra sexy lingerie. Go on babe, try something new.  
But first, what makes lingerie sexy?
Sexy lingerie has changed a lot throughout history, from big underskirts to girdles, and who can forget bloomers! While what's fashionable and considered sexy may have changed, the purpose has remained the same, feeling confident and sexy. 
The key thing to remember is there is no one definition of what makes 'sexy lingerie', it's all defined by you, the wearer. It's all about what makes you feel good and gives you that confidence boost after you've checked yourself out in the mirror. Sexy is a state of mind, and lingerie can help you get there. 
Lingerie is also sexy for other reasons, it can help you explore new things in the bedroom. Whether you're putting the tease in striptease, roleplaying your fetish fantasy, or slipping into something silky and sensual that flatters and flaunts your best assets, sexy lingerie will give you a new level of confidence to bring that extra little bit of spice. 
So forgo those fears, and take yourself on a sexy lingerie journey. Here are our favorite sexy styles that are perfect for anyone looking to take their sexy lingerie game to the next level.
Chemises
The ultimate combination to tease and delight, curve-hugging, and figure-loving Chemises are the first step in leveling up your sexy lingerie supply. They flatter your form and soon become your new best friend. The chemise is the perfect piece to build up your confidence. Show your lover a little more while wearing a little less. 
Featuring plunging necklines for more exposed cleavage, chemises come in a variety of materials such as lace, mesh, silk, and vegan-friendly leather (a.k.a. pleather)! It's time to put aside your trusted nightgown and show your partner who's the boss in the bedroom.
TEDDIES
Designed to be worn in the sheets, or if you're super confident, with your favorite pair of jeans out in the streets! Teddies are guaranteed to entice all day and all night long. Teddies are very similar to a bodysuit, with an all-in-one design that cuts high around the leg, and is flattering on any size and shape. If you are a little self-conscious about your tummy, a Teddy will cover your midriff, while highlighting those gorgeous legs of yours. 
With over 55 styles to choose from, Fredrick's of Hollywood has something for everyone. Don't take our word for it, check out the reviews left by our other sexy shoppers to help you choose your first teddy.
Sexy Sets
No lingerie makeover is complete without adding a few sexy sets to your collection. You all know that boss babe feeling you get when wearing a matching bra and panty set. Much like having your nails done or bills paid, lingerie sets just make you feel like you've got your shit together! 
Chances are you're already wearing panties and bras, so why not mix it up with something that matches. Show your lover you mean business in the bedroom with a super sexy set that has the wow factor! 
Frederick's of Hollywood has you covered with lace to leather lingerie sets and everything else in between. Don't take our word for it, try it for yourself and spice things up, they will certainly take notice when you reveal this set!
Garter Belts
Dress down to your Garter Belt and get ready to take full control. Guaranteed to make you feel powerful, Garter belts flatter your figure and sit just above your panties. 
Strap up in our best-selling sexy Perta Satin Garter Belt! Show some special exactly how you feel by wearing this super sensual lingerie piece. Take charge and get the full boss babe look with a matching Petra bra, panty, garter belt, and stockings. Get the full look now. 
Frederick's insider tip: Garter Belts can be worn with or without panties! No matter your height garter belts can be worn comfortably, featuring adjustable straps for that perfect fit.
Open Back panties
You've mastered the essentials in your sexy lingerie journey and they are begging for more, don't stress babe, Frederick's of Hollywood has covered!
Get their jaw-dropping, once again by wearing a pair of pen back panties. You'll be ready for your next rendezvous at any time of the day.
Show off that beautiful booty in this irresistible and super-flattering style, uniquely designed to expose the bum, a sure way to drive your lover wild!
Open Cup Bras
As sexy as it sounds, the open cup bra leaves little to the imagination, exposing your breasts while still giving you all the support you need. You will be a fully graduated sexy lingerie expert once you add an open cup bra to your lingerie repertoire. 
Sometimes known as shelf bras, the entire Frederick's of Hollywood range of open cup bras/shelf bras features underwire cups, so you're getting an optimal lift with maximum exposure. 
Everyone needs to try an open cup bra at least once in their life, the feeling of being supported while exposed boosts your confidence, and brings a new level of intimacy for you, and your lover. 
You won't regret your first open cup bra purchase, and the Jade Open Cup Bra is a must-have for any lingerie drawer.
crotchless panties
The sauciest and final addition to your sexy lingerie journey is the crotchless panty! Paired perfectly with an open cup bra, once you purchase your first crotchless panty, you will be wondering why it's been missing from your life! 
Crotchless panties are lacy, racey, and a Frederick's of Hollywood customer favorite. Featuring floral lace and mesh fabric, they are not only sexy but comfortable. You might even find yourself wearing a crotchless panty every day, no matter what's on your agenda! If you're intrigued by the crotchless panty craze check out our 5 reasons to wear them! 
All shapes and sizes are beautiful, and at Fredrick's our sizing ranges from XS-XXXL. Find your perfect fit using our online size chart.
Level up your lingerie game with fredericks
Underwear is the first thing we put on every day, and sexy lingerie doesn't need to be reserved for after-dark activities. You can wear sexy lingerie on any occasion for that extra boost of confidence, and it doesn't have to be shared, remember it's all about you! Whatever we choose to slip into, it should leave us feeling confident, powerful, and most importantly, sexy! 
Long gone are the days where you have to compromise comfort over sexy and stylish, and our entire catalog is designed with both in mind. It's time to trade in your everyday comfortable favorites, forgo those fears, and step outside your comfort zone, you won't be disappointed you did! 
Our top picks for sexy starter pieces will have you looking and feeling your best, inside and out of the bedroom. From beginners to experts, Frederick's ultra-sexy range has something for everyone!
Our favorite ultra sexy pieces
More from show & tell