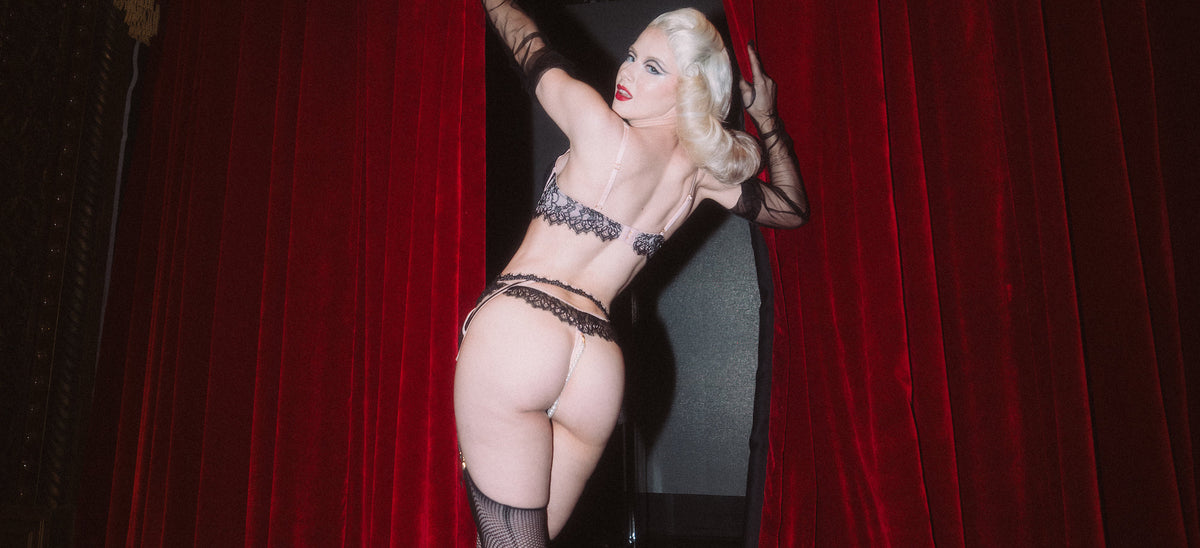 How to Feel Sexy & Comfortable in a Thong
The thong dates all the way back to the days of loincloths and chastity belts so let it be known they have been popular for a very long time! Our previous ancestors from ancient times thought it was good craic to wear a slim piece of fabric between the legs so why shouldn't we be giving it a go ourselves? 
Thongs have been made even more popular over time. In 1974 Rudi Gernniech's invention of the swimsuit thong made its official debut, and a year after that thongs were made part of mainstream underwear collections. The '90s proved that slim-fit jeans and thongs were must-have companions in your wardrobe. Together they gave a flattering look, with thongs becoming a sexy yet practical choice for avoiding visible panty lines. Now women everywhere love thongs and their skimpy sister, the g-string. Fredrick's of Hollywood knew from the beginning that thongs would be part of our sexy lingerie collection. They would pair nicely with styles like the renowned push-up bras, full-figure bras, or even a cute babydoll. 
Thinking about wearing a thong for the first time? Wondering why this little number is so popular? We've got you covered babe! In this guide, we're breaking down how to feel sexy and comfortable in a thong and answering those questions about where to start and how to find the right thong that you can feel comfortable in all day.
Why Wear a Thong?
A thong provides coverage in all the right places but still allows you to have an invisible panty line. This flattering shape teams well with snug-fitting clothing, and if you have the fit right it can also be very comfortable on the body too. There is no need to worry about panties bunching up in all the wrong places or showing through on tighter fitting pieces. Thongs are a practical underwear style you can add to your collection that just gives you that everyday sexy and seductive feel to your lingerie drawer.
Why are Thongs Sexy?
They just are! But more specifically, they are widely believed to be sexy because they allow you to show off more skin and get those cheeky cheeks out. Talk about driving your lover wild! Thongs are playful and curve enhancing, are perfect for a date night, and may perhaps lead to something saucier afterwards too. They may even add spice to a more conservative panty collection that can be useful for those naughty nights. The best part about thongs is they can make you feel like you are wearing nothing.
How to Feel Sexy and Confident in a thong
1. Find Your Perfect Fit
Obviously, the best thong is going to be one that fits perfectly. Knowing and buying the right size for you is key when buying panties. It must be comfortable, if it isn't then you haven't got the size right. 
You'll know you have the right size when it enhances your natural curves and doesn't dig in too tightly on your sides. Always look for soft fabrics that have some stretch to them and if in doubt,don't be afraid to size up. There's nothing more uncomfortable than a thong that's too tight! Browse what's on offer and find your perfect match. 
There is always a size guide on-site to give you assistance in choosing the best fit for you and the live chat is always there to help you if you need further guidance.
2. Blessed with a booty? Our thongs fit all sizes
At Fredricks we love booties and all of them are beautiful! That's why our sizes range from S to XXXL. Discover some of our sexy thongs for fuller figure beauties. Thongs are lightweight and makes you feel like they are not even there under clothes. This is sure to be an everyday essential for your panty drawer and will rock your confidence every day you put them on. 
3. Embrace the sensation
It's true if you try a new style of underwear, they can feel different the first time around. Enjoy the new sensation of a thong and relax into it. 
Notice the different way it makes you feel, the fabric of your clothes against your cheeks, and the new breeze you feel floating up your skirt. 
If that thong is not giving you good vibes, then don't worry! It's all about you feeling comfortable and you can change this up by trying a different size or style that may be better suited to you. 
The main thing is always ensuring the underwear is fitting right for your body type. Too tight and it can cause chafing or discomfort. Making sure the fabric feels good on your skin is also imperative.
4. Give yourself time to get comfortable
Of course, a thong will feel different from your usual full brief or bikini, it has a totally different sensation and sits differently on your body. At first, you may even feel a little uncomfortable about the security of your new style. However, if you give it some time, we promise you it will start to feel like a part of you, and after a while and you may even start to enjoy the freedom of it. 
We suggest wearing a thong for a full day to really see if this is the kind of style that is for you. You may find you don't even notice it later in the day and really like the fact you can feel your clothes brush against your booty instead of your panties.
5. don't be afraid to try a few different styles
It's easy to stay true to your trusty panty shape, but how do you know if that is still the right shape for you? Your body is always changing so why not put yourself out there and try a new panty shape. You might be missing out on something you should have been wearing ages ago! 
So… you're a full brief girl and have always been a full brief girl… maybe it's time to mix it up! Rather than jumping right into a thong, work your way up to it by trying an ever so slightly cheekier style. 
Start with a tanga just to show off a little bit of your peach. Then if you want to try to achieve a no panty line look then move on to a thong. Then if you're feeling super sexy it's time to fully embrace your curves with the slim lines of a G-string. The whole experience might surprise you and you may even want to have all profiles in your lingerie collection for all different occasions.
tangas
The tanga perfectly enhances and frames your booty but still gives you that alluring and seductive look. Sometimes, less is more, which is how we ended up with the Jessica Lace Tanga which highlights more of your booty.
thongs
This is the next step up from a tanga. It will free those cheeks but still has a band across the hips that covers and flatters your sides. For everyday wear that's sexy, try the Krystal Microfibre Thong. With this, you get comfort and style with a sexy feel.
G-Strings
Next step into a super sexy mini-G. It's sleek and gives smooth and sexy lines and even better leaves only a little bit to the imagination. Nothing says sexy like the Exxtreme Mini G-String, this classic design covers what you want and accentuates the rest.
crotchless thongs
The surprisingly comfortable crotchless panty is an ultra sexy piece to bring to the bedroom. Why not take it up a gear and go for a crotchless thong?! Check out our 5 reasons to wear Crotchless Panties blog post for everything you need to know.
boost your bedroom confidence
A thong is the perfect way to spice up your life. It can be that cute teaser of your perfectly shaped peach to your partner when your next move is the bedroom. Or even when you are looking in the mirror at yourself and seeing those slim lines shaping your curvaceous body, instead of covering it over with a full brief, your confidence will soar. 
When you are feeling comfortable in your thong, we know you will feel your best sexy self. And if that is the case, then wearing sexy lingerie is an act of self-care!
level up your lingerie game with fredericks
Hopefully by now you're feeling more confident about a new thong! Go on, head to the Fredrick's thong collection and take a browse. Remember to try a tanga first if you are not wanting to dive right in there but… if you are then head straight for a thong or G-string. 
Check out the fabrication of the product and decide if you want lacey, cotton, or mesh. Know what look you are wanting to create and feel on your body and search for those styles that will suit your requirements. Also, ensure the size is right for you and if in doubt go up a size so that it will feel comfortable and not tight on your body. 
Most importantly, choose one that will excite you! Make sure you buy one that is going to make you look and feel fabulous throughout the day!
More from show & tell