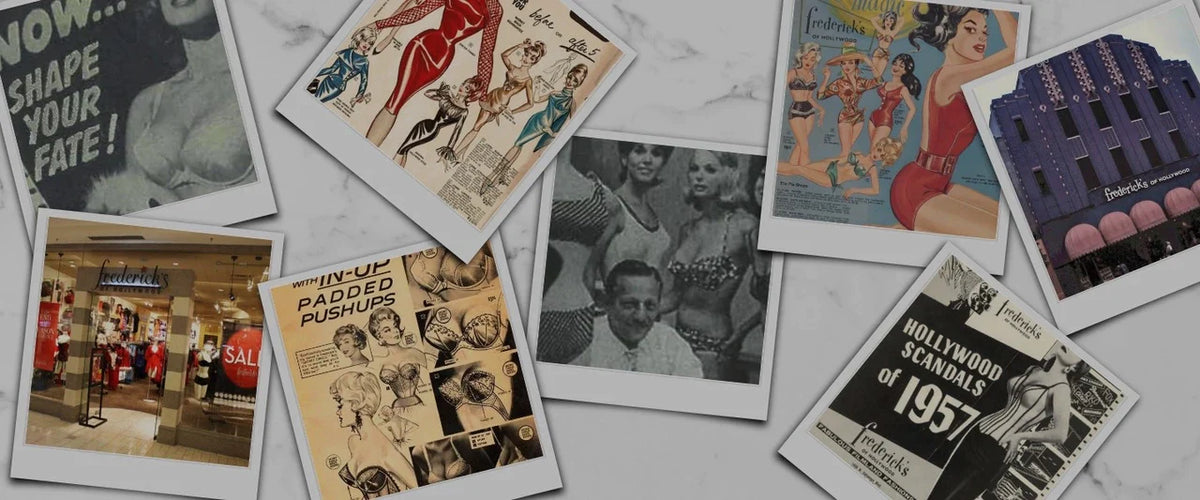 Your Favorite Lingerie - Thanks to Fredericks of Hollywood
From foxy Black Lingerie and playful Push-ups to tantalizing Thongs and Crotchless panties - there are certain items that never fail to boost our confidence and help us to exude our sexuality in a mischievous, provocative, or sensual way. 
But many of our favorite go-to pieces that we know and love, wouldn't have been popular without the help of Frederick Mellinger - the creator of 'Frederick's of Hollywood'. His risk-taking and determination to revolutionize the lingerie scene helped to innovate and influence some of modern histories most illustrious must-haves. Although times have changed, we still stand by these classic creations introduced by our founder that have transformed the face of lingerie for the sexier!
a brief history...
Frederick Mellinger, better known as Mr. Frederick to his adoring customers, had a vision to bring sensuous and sophisticated European-style lingerie to the American woman. In 1946, after a quick stint in New York, Mr. Frederick moved his business to Hollywood Boulevard to take advantage of the glitz and glamour of the movie star era. 
His plan worked and the brand became synonymous with the likes of Hollywood legends such as Marilyn Monroe, Bettie Page, and Jayne Mansfield who visited the infamous "Frederick's of Hollywood's Purple Palace" and donned his creations. 
Ever the risk-taker, Mr. Frederick was set on exposing the secret world of lingerie and in the 1950's was the first to advertise intimates in both men's and women's magazines. 1986 saw the quirky 'Lingerie hall of fame' open within the Hollywood boulevard store. This housed some of the world's most iconic underwear in music and film, including Madonna's 'Open up your heart' corset which was stolen during 1992. Later returned on December 1st, the Mayor of L.A declared this day to be 'Frederick's of Hollywood Day' in celebration. 
Frederick Mellinger died in 1990, however, his Hollywood legacy has lived on with collaborations including the likes of Pamela Anderson, Dita Von Teese, and most recently Megan Fox. In true Mr. Frederick style, the brand continues to innovate and deliver beautifully designed and impeccably made lingerie.
a lasting legacy
You might wonder how Frederick's of Hollywood has continued to stand the test of time and be the place to shop for everyone from Hollywood starlets to supermodels to lingerie lovers and their discerning partners.
Let's take a stroll down memory lane.
black lingerie
Universally the most popular color for underwear, black lace is flattering on every figure and always a sexy yet classy choice. But before this was ever an option in the U.S, plain white unmentionables were the only choice to get you hot under the petticoat. 
Enter Mr. Frederick who, inspired by the women of Europe, was fired from his first job for suggesting – *gasp*– Black Lingerie! Lucky for us he was a true pioneer and black lingerie was an instant hit. 
Today we still honor Mr. Frederick's audacious move by continuing to offer you the latest in this classic style with the likes below.
the bikini
Summer just wouldn't be the same without our itsy bitsy friend – and after witnessing these two-piece wonders during a visit to France, Mr. Frederick's introduced the bikini to America in 1946. As the saying goes, "there's no such thing as bad publicity," which was certainly the case after the press published the story of a woman's arrest for indecent exposure on Venice beach, wearing…you guessed it, a Frederick's bikini. 
Needless to say, this only helped with Frederick's of Hollywood's popularity both in the bedroom and on the beach. We can still help you to stop the press, with a wide selection of bikinis and swimsuits.
Padded and Push-up Bras
With the rise of the Hollywood Starlet in a post-war era, the fuller figure was celebrated. Inspired, Mr. Frederick created the first ever padded bra called the 'Rising Star' in 1947, followed a year on with the first push-up bra. These were often referred to as 'bullet bras' for the pointy, cone-like appearance. 
Through the years, other innovations were introduced such as the lesser known 'blow-up bra' (with free straw for self-inflation), 'Grand front opening' bras in the 1960s, and 1998's successful 'H20 Water bra'. 
Although some of these styles might not have lasted the distance (we're looking at you 'blow up bra') we've never let you down and continue to offer classic best sellers like our unforgettable, Exxtreme Cleavage Bra (est. 2003) or our champion Hollywood Knockout Push Up Bra, both available in multiple colors.
bodyshapers
The 60's brought the Padded Girdle and Bodyshapers to the fore with designs such as the 'Two Timer' – in Rayon featuring 'foam rubber pads' inserted into hip and derriere pockets. Further iterations of these body shaping marvels included features such as waist cinching, tummy control, bum lifting, and even bum cleavage. This trend has continued today and is seen as an alternative solution to surgery to achieve the silhouette you desire. Now heavily modernized and far more comfortable, we still have all your shaping solutions sorted.
the thong
Although it may not have been Mr. Frederick who invented the Thong, he can be accredited for bringing this cheeky number to the masses. In 1981 Mr. Frederick recognized the trend for smaller, sexier knickers and began to market thongs as 'Scanty Panties' alongside other erotic items such as edible underwear and Crotchless panties. In 2001, on the Thongs 20th Anniversary, it was reported this style was the highest selling item in the panty category, and we can see why.
fashion corsetry
The 'bullet bra' lives on! Thanks to these early creations in the 40's, designers like John Paul Gaultier and Marlene Stewart were inspired in the late 80's/early 90's to create 'cone shaped' bustier and corsets – most notably seen on Madonna during her 'Blonde Ambition Tour'. 
Other design features such as fashion colors and elaborate embellishments helped to carve the way for this defiant little piece of clothing to escape its restrictive connotations and be seen as the standout star when it comes to Underwear as Outerwear.
A round of applause for Mr. Frederick's
So, there you have it! Next time you're off on a racy date night, planning your next beach trip or booking a naughty weekend away - you can give thanks to Frederick's of Hollywood for breaking away from those humdrum white undies and unleashing a world of sexiness. 
Keep up to date with ever-changing trends and exclusive content by signing up to our newsletter or shopping our latest arrivals on the Frederick's of Hollywood site. 
Bravo Mr. Frederick. Bravo!
More from show & tell