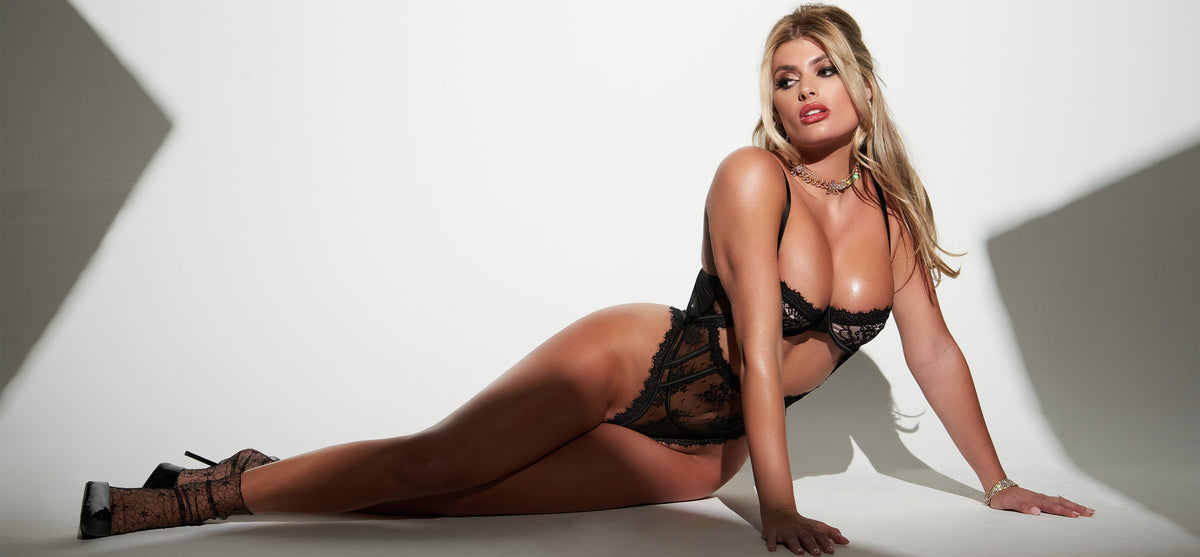 Ultimate Guide to Teddies & Bodysuits
For women who love lingerie, there's a lot to love about a bodysuit. Masters of creating a sexy silhouette, these one-piece wonders are perfect for wearing in the streets or the sheets. Bodysuits and teddies make an excellent addition to any lingerie collection as they're universally flattering and dangerously form-finessing. 
They come in a variety of materials and colors, as well as a variety of cuts that offer different levels of support, but which one is right for you? In this guide, we're breaking down everything you need to know about these must-have pieces, the key features of teddies and bodysuits as well as the most popular and trending styles.
teddies & bodysuits - what are they?
A one-piece wonder, teddies and bodysuits are lingerie staples that you'll love to wear. Unlike separates, like bras and panties, a teddy or bodysuit covers the torso and crotch as an all-in-one garment. Hugging every curve, they exude glamour and can help you really dazzle in the dark from the bar to the bedroom, if you know what we mean… 
Teddies and bodysuits come in a wide variety of cuts and styles, from dramatic lace long-sleeves to chic-and-sleek plunging necklines. Whether you love to lounge in romantic lace, slip into silky satin, vamp it up in vegan leather or accentuate your curves in shapewear, there's a perfect teddy for everyone.
What's the difference between a teddy and a bodysuit?
What's the origin of a teddy, you ask? According to the History of Lingerie, the teddy was named after its inventor Theodore Baer, who combined a traditional chemise with a short slip or attached panties. 
A bodysuit is similar in style, but generally a little more likely to be worn as outerwear or as part of an outfit. While teddies were originally designed strictly for the bedroom, there really aren't any rules anymore, with teddies and bodysuits important additions to your lingerie closet.
Why wear a lingerie bodysuit
There are so many reasons modern women love to wear teddies and lingerie bodysuits:
Flattering for all body types
A bodysuit accentuates your hourglass shape while holding you in all the right places. For petite women, a bodysuit can add an illusion of length and height, while for plus-size babes, bodysuits hug and smooth every delicious curve. No matter what body shape, size or type, you can find a teddy that flatters your figure.
Innerwear as Outerwear
A true wardrobe staple, you can style a bodysuit or teddy under jeans, with a skirt or beneath a blazer for a sexy statement look that is sure to turn heads.
Something different
Whether you're wearing in the streets or between the sheets, a bodysuit is a playful and fun addition to your wardrobe. Stuck in a rut when it comes to lingerie to wear in the bedroom? Spice it up with a cheeky teddy and watch their jaw drop.
They feel good
Lingerie that makes you feel good is a form of self-love. When you feel good, you naturally look more confident and sexy. A bodysuit can be your secret weapon for extra confidence in the bedroom with a partner, or a treat for yourself for lounging solo.
Types of bodysuits & teddies
sexy teddies & bodysuits
Firmly in the camp of sexy lingerie, worn for the bedroom (or elsewhere), sexy teddies and bodysuits are a great addition to your lingerie collection or perfect to buy for a lover. With many styles and colors to choose from, we'd be surprised if you didn't pick up a few. Black teddies are a popular choice, but show off your fun side in a bold color.
sheer bodysuits & teddies
These feature daring, sheer-stretch mesh and are great over other lingerie pieces, like bras or bralettes, or layered under corsets. 
Sexy choices include the Gini teddy, featuring a front cut-out with hardware detail and a halter-neck tie fastening with a thong back.
Lace bodysuits & teddies
Whether you're a fan of all-over lace or just want a little bit, lace plus teddies equals a match made in heaven. 
Flirty and feminine, try lace teddies like the Lana Lucia Lace Teddy. With its luxurious lace body and delicate scalloped trim, naughty, eye-catching strappy detailing on the neckline and leg openings, this teddy is set to take center stage.
Cupped or underwire bodysuits
Many teddies and bodysuits are soft and sheer, which can be sexy but do not offer as much support as an underwire. If you're wanting a little more lift, opt for a cupped, push-up or underwire teddy, or try a Bodysuit with a built-in bra. 
Top picks for ultimate support are the Ilana Satin and Lace Teddy with a high shine print fabrication and molded underwire cups.
open cup teddies
These go the complete other way and, get the girls out for show.
Seduction has a new poster girl with the Terri Open Cup Lace Teddy. Tease and thrill with exposed cups and open cutout design along the back and crotch.
Crotchless teddies
Accessing all areas and perfect for playtime, our range of crotchless teddies are perfect for spicing up the bedroom. The Amelia Angelique Crotchless Teddy's all-over mesh is a soft-cup style featuring luxurious ribbon fastenings at the hips and neck.
shapewear teddies
These are all-in-one shapewear options that flatter and hold you in for extra support and feature slimming effects that don't bulge or fall down. 
Comfortable and smoothing, the Hollywood Shaping Teddy provides support for the bust while simultaneously shaping the waist. The plunging wrap neckline means it's suitable to wear under even the most revealing outfits.
Backless teddies
Backless teddies are ultra sexy and perfect for rocking under that backless dress or pairing with jeans or a backless dress. 
Plunging in the front and backless, the Stephanie Lace Plunge Teddy is made from a mix of beautiful eyelash lace and stretch mesh for comfort. Ever the crowd-pleaser, our Jessica Lace Teddy features soft cups with a halter neckline and a deep, plunging neckline for a backless teddy you'll love to wear.
thong teddies & bodysuits
An extra cheeky style that's great for pairing with jeans or skirts when you don't need the visible panty line. 
We love the Saffron Floral Lace teddy for its plunging halter neckline. The Inga Teddy's mix of open mesh and lace and high cut leg with integrated garter strapping makes for perfect dress-up attire.
bodystockings
Not strictly a teddy or bodysuit, but in the same ballpark if you're looking for body-hugging one-piece wonders. Typically made with sheer or stretch lace fabric or fishnet, bodystockings will mesmerize your lover. 
A crowd favorite is the Jaslyn Bodystocking, with it's criss-cross front and open crotch.
How to put on a bodysuit
There are a couple of ways to put on a bodysuit, and it will depend on the crotch fastening. If your bodysuit has a crotch fastening, then the best way to put on a bodysuit is to open the fastenings and slide it on from top to bottom. If there's no crotch fastening or it's very strappy, crotchless or a bodystocking, then the best way to put it on is to carefully step into it and slide it up your body. 
When putting on delicate or sheer pieces, it's recommended to remove rings or sharp jewelry that may snag or catch as you are getting into it. As for taking it off, well, we'll leave that to you.
How to choose the right size bodysuit
Sizing for bodysuits can be tricky because it's an all-in-one piece. Most lingerie bodysuits and sexy teddies are made with stretchy or elasticated materials to allow for movement and comfort when wearing. Need some sizing help? We've got you covered. Follow the size guide to find your perfect fit. If in doubt, or you're extra-long in the torso, it can be advisable to size up for added comfort.
How to style teddies & bodysuits
The best thing about bodysuits and teddies is that they are versatile and able to be worn fashionably as outerwear or for tempting and teasing your special someone in private. Sensual and seductive ways to style your teddies and bodysuits include: 
Styling with high waisted jeans for a sexy retro look 
Wearing under backless or body-hugging dresses for a sexy surprise 
Wearing a strappy or cut-out style under a sheer layer for a sexy look 
Pairing with thigh high stockings and heels to add some wow factor 
Add a striptease to the agenda and rock a robe or kimono over the top
level up your lingerie game with fredericks
Now you've got the low-down, it's time to put it to the test. Shop bodysuits and teddies at Frederick's of Hollywood now and elevate your lingerie game!
More from show & tell