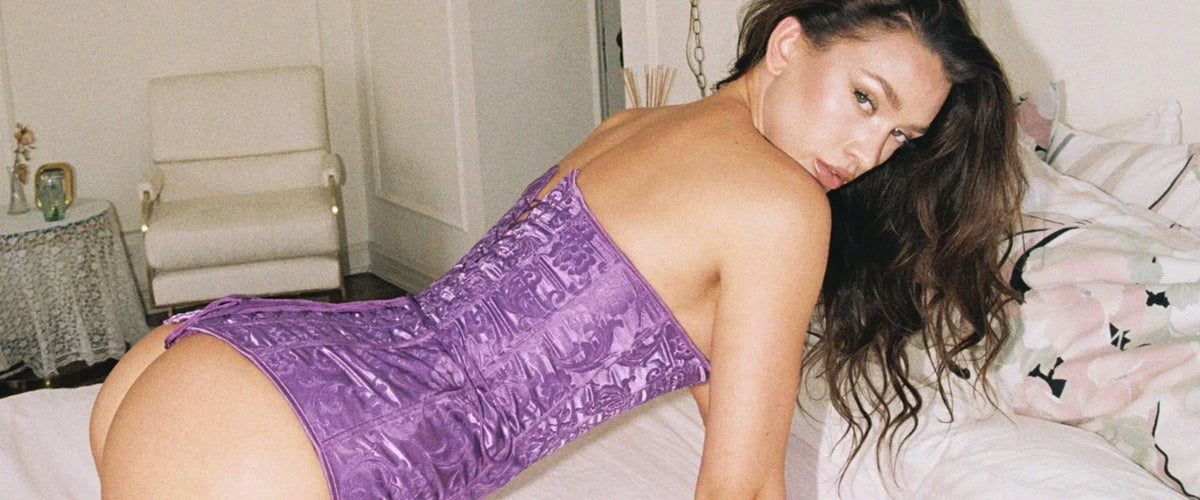 Corsets are an amazing addition to any girl's lingerie collection. Not only are they incredibly sexy, but they also have a bunch of other benefits and are especially great for busty babes. Whether you're petite or plus size, you're bound to find one to love in our wide collection of corsets and waist trainers. 
There are a few myths and mistruths surrounding corsets, so we're going to quickly dispel some of the unfounded concerns people have about corsets. We'll then give you the run-down of some of our favorite saucy numbers and reasons why you'll absolutely fall in love with them.
let's bust some common corset myths
Corsets restrict your breathing - false 
If a corset is restricting your breathing, then you have it on too tight and should remove it immediately. While corsets are designed to give you an hour-glass shape, they're not meant to hinder you from breathing. To avoid this, you should only ever lace up a corset so it's firm yet comfortable. Using a mirror or getting the help of a friend is the best way to make sure you're wearing it properly. It's also a good idea to adjust after wearing it for a time to ensure the fit is comfortable and you can breathe normally. 
Corsets push your organs around - false Well, kind of false. 
Yes, a corset does compress your waist, and therefore some of your organs, but so do everyday activities like sitting, leaning and bending (not to mention being pregnant). The human body, and particularly the female body, is designed to let things move around a little, so wearing a corset for short bursts of time is perfectly safe. 
Note: While corsets are sexy and safe, they are not recommended for wear during pregnancy. 
The boning in a corset weakens your muscles and makes you dependent on it - false 
In fact, the complete opposite is true! While a corset does provide you with support, it also encourages you to stand and sit up straight, which can strengthen your back muscles. This may cause some initial discomfort when you begin wearing a corset, but it's likely because the muscles are getting a bit of a workout. Pain, if any, should be mild and similar to muscle pain you experience after a tough gym session. 
Corsets caused people to faint in the Victorian era, so they can't be good - false 
Hollywood movies would have us believe that tightly laced corsets had a role in those swoonings back in Victorian times and that corsets reshaped women's lungs into a cylindrical shape. But most evidence suggests period-era women wore their corsets at the same kind of firmness as we do today, which - if you're doing it properly - isn't that tight, certainly not tight enough to cause fainting! 
Corsets, when worn correctly and comfortably are safe and suitable to wear in the streets or the sheets.
why corsets are perfect for busty babes?
Sure corsets can be good for your posture and keeping your core supported, but the true appeal of them lies in the sexy hourglass shape they help to create for all body shapes. So what makes them particularly great for the bustier babe? 
Firstly, they flatter your figure, cinching your waist and trimming a few inches while accentuating your curves in all the right places, giving you a strong and sexy look. 
And when you've got a larger bust, they're incredibly comfortable. Not only do they help improve your posture, but they also give your bust amazing support, which reduces back pain that can be caused by having larger boobs. Wearing a corset may also remove the need to wear a bra. 
Corsets are also a versatile fashion statement for women of all sizes. Style your sexy corset with your favorite jeans for a chic day-to-day look or wear it under some sheer layers to spice up date night. It's totally up to you. 
Having your curves shaped in all the right places thanks to a corset will make you feel amazing and boost your confidence, whether you're out on the town or in the bedroom.
here are our favorite styles for busty babes
Hollywood Dream Halter Corset
If you're looking for a corset that will flatter your beautiful hourglass curves and accentuate your best assets, you absolutely can't go wrong with the Hollywood Dream Halter Corset. 
Why you'll love it: 
The gorgeous luxe jacquard print with Venice lace has light boning through the bodice to accentuate your curves. It gives extra support for bigger-busted babes and makes your cleavage look amazing! The Hollywood Dream Halter Corset can lace up at the back for greater adjustability and has a front hook and eye closure… if a faster exit is required. If you want to pair it with hosiery, no problem - it has detachable garters that are also adjustable.
Wear it with: 
This glorious corset is so versatile, it can be worn on a night out or around the house and into the bedroom. Pair with a tanga and stockings for the full effect.
Hollywood Shaping Waist Cincher 
The Hollywood Shaping Waist Cincher is the perfect match to any outfit where you want to enhance and shape your waist but still showcase your cleavage. The stretchy microfibre fabrication comfortably hugs your curves and having the functional hook and eye fastening at the front makes it so easy to do up or undo without any fuss.
Why you'll love it: 
This is a must-have item for your wardrobe! It is not only comfortable, but it's functional and creates a flattering silhouette under your clothes. It has a low-cut neckline but still has a corset feeling and gives a busty effect under most outfits. 
Wear it with: 
Pair this with a buttoned-down shirt or a dress. Perfect with any outfit you want to flaunt your figure in.
Jessica Lace Corset
A classically sexy look, the Jessica Lace Corset will be a stand out in your lingerie collection. It's sheer mesh shows just enough skin to keep things tantalizing while the lace overlay and padded, underwire cups add beautiful, feminine detailing. Just as a corset should, the light boning helps cinch your waist, giving you a fantastic, hourglass shape. 
Why you'll love it: 
This corset is an amazing, sexy design that still retains enough modesty to be paired with other outfits for a night out. Padded cups and scalloped edging accentuate your neckline and cleavage while providing perfect comfort and support. With hook-and-eye closures at the back, you can easily get in and out of this without fuss, with adjustable straps that give you a great fit and removable garter straps, so you can pair this with some sexy stockings. 
Wear it with: 
Combine with a sensual and silky robe or kimono and tease your lover with a sexy striptease.
Hollywood Dream Sweetheart Corset
The Hollywood Dream Sweetheart Corset is a must-have Fredericks of Hollywood style! Feel like a dream girl wearing this gorgeous sweetheart-shaped corset. With its luxe vintage jacquard print, Venice lace trim, and light boning, your curves will be banging in this style. The lace-up back gives that touch of elegance plus it has detachable garters, so you can wear it as you desire. The lace-up back lets you adjust it to fit comfortably. The perfect bodice for bridal wear! 
Why you'll love it: 
This wardrobe staple comes in a number of colors and fits up to a size 44 Its adjustable laces at the back mean you can look stunning and comfortable at the same time. 
Wear it with: 
Match with the Jessica Lace Mini G and the Emmy Scalloped Lace Stockings to be wedding day ready. Pack a second colorway before you head away on your honeymoon for an easy to wear vacation look.
How to lace up in a corset
Most of our lace-up styles also have hook and eye fastenings at the front that make it easy to get into yourself. Simply adjust the laces to fit, then put on and do up the hook and eye fastenings. It may take a bit of trial and error but it will be worth your while. For styles with stretch, gently slip into them and adjust straps for the perfect fit.
Level up your corset game with fredericks
So, now you've got all the facts, the myths are busted and you've got a selection of core styles to see what suits your fancy. The next step is getting one of these comfortable, sexy, and seductively shaping options. Whether you're looking for a stunning outfit to head out wearing or want something to floor your lover with, shop corsets at Frederick's of Hollywood now and elevate your lingerie game.
more corset styles
More from show & tell