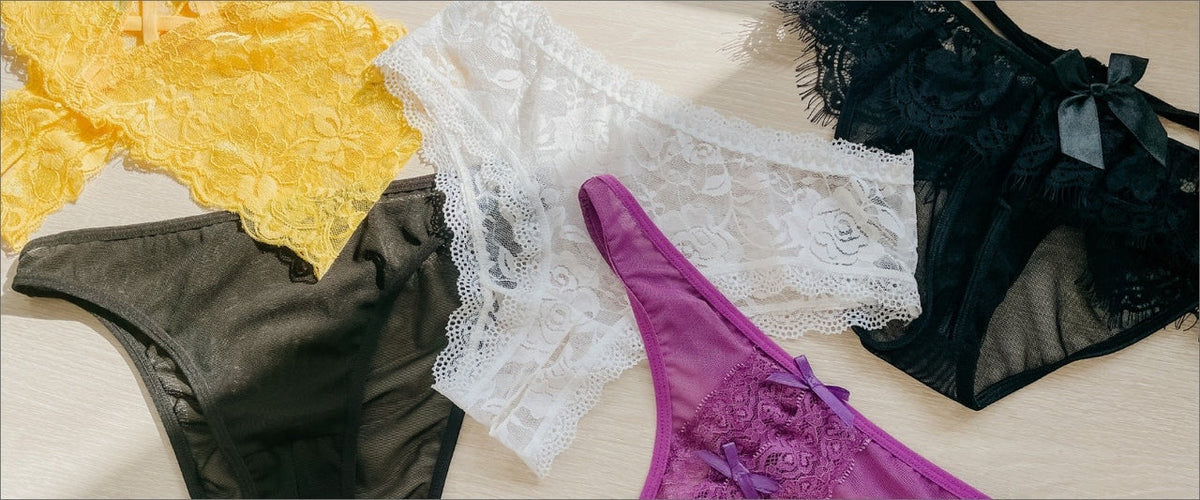 5 Reasons to Wear Crotchless Panties
Ever wondered what all the hype is with crotchless panties? Or what they even are? At Frederick's of Hollywood, we love a crotchless panty, and so do our customers - they're one of our best selling styles! Curious about whether crotchless panties are right for you? Take a look at our top reasons for wearing them and discover this sexy, stylish and surprisingly comfortable addition to your lingerie drawer.
crotchless panties - what are they?
When it comes to crotchless panties, what they are is kind of in the name... They are panties that have an opening or space where the crotch piece usually is.  They can be discreet or more overt and are a popular style of lingerie. 
While they are a style much-loved by women (and their lovers) over the world, crotchless panties have some pretty old-school origins.  Historically, crotchless panties or split drawers used to be the standard, with many believing them to be more hygienic, practical and modest. This style was especially practical in the days when they were worn under layers of petticoats and skirts.
Underwear has come a long way since then, and today crotchless panties sit firmly in the category of sexy lingerie alongside garter belts, teddies and other fun bedroom costumes. If you're wondering why modern women love wearing crotchless underwear, here's five amazing reasons you should give it a try.
Reason 1: crotchless panties are sexy!
The number one reason fans of crotchless panties choose to wear them is that they are innately sexy, and wearing them can give you a huge confidence boost. The thrill of knowing you have a sexy surprise hidden underneath the most mundane of outfits can keep you feeling stimulated and tingly all day long.  
Crotchless panties can heighten the sense of anticipation if you're out on a date.  Just knowing you're wearing crotchless panties may be enough to drive your date wild, and definitely be a reason to skip dessert! 
If things start to heat up even before you hit the bedroom, you're ready to go.  Not in the mood to tease? Crotchless panties can be a sexy surprise for your partner to discover. Take foreplay to the next level and let them fast forward to the really good parts! 
Reason 2: fun in (and out of) the bedroom
One of the saddest moments for a lingerie lover is getting yourself in an ultra sexy lingerie outfit only to have to take it off after minutes - sometimes even moments - in the throes of passion.  
Crotchless panties are designed for peak pleasure without the pause to remove anything. No awkward dance as you remove your delicates or getting your panties in a twist as you take them off. 
Not to mention these panties are extra fun if you like getting frisky outside of the bedroom! In a car, at a bar, or on a plane... wherever your imagination takes you.  There are sexy times to be had wherever and whenever you wear them.
Reason 3: crotchless panties are surprisingly comfortable
But are crotchless panties comfortable to wear, we hear you ask? The answer is yes! 
Being crotchless, these panties tend to allow for more airflow and improved breathability. There can be less irritation from fabric rubbing in sensitive areas too, providing you with a comfortable yet sensual experience. 
Some women even prefer wearing crotchless panties for sleeping as they keep everything cool, plus it's handy for an early morning tussle in the sheets. It may take a couple of wears to get used to the feeling of wearing crotchless panties, but with time you'll wonder how you ever went without them.  
Choosing the right size is important for a comfortable fit, so ensure you check our handy size guide before you check out. 
Reason 4: Suits all body shapes
At Frederick's, we're all about flaunting what your mama gave you, and believe in owning your sex appeal at any size. All booties are beautiful and we have the crotchless panties to suit. In fact, if showing off your booty is your thing, we have a couple of styles that let you bare your best asset! 
We have an amazing plus-size range for our lovely larger ladies, too. Check out our customer fave, the Nevine lace crotchless panty. 
Whether you're an XS or an XXL, we've got you covered for crotchless panties.
Reason 5: So many different styles to try
Crotchless panties are a must-have addition for any lingerie lover or anyone looking to thrill. There are so many versatile styles to choose from.
hidden crotchless underwear
overt crotchless underwear
other crotchless lingerie styles
More from show & tell