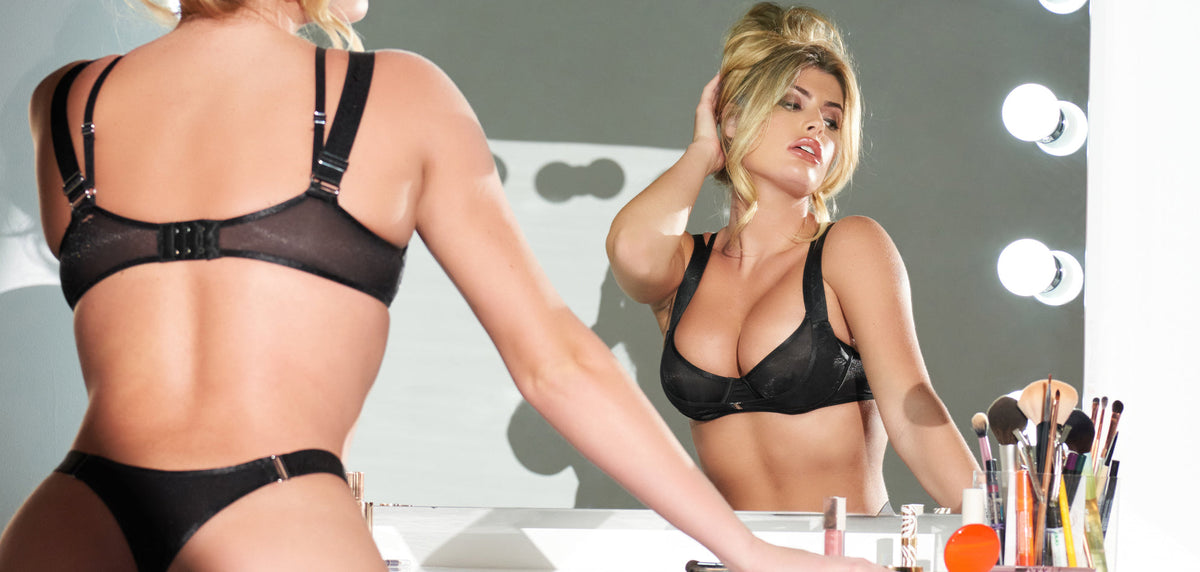 5 Bras Every Woman Needs to Own
Here at Frederick's of Hollywood, bras are what we do best! So trust us when we say we have the perfect bra to support every babe and her ultimate prized possessions. We know how important it is to have the perfect bra for every occasion, and with so many options, styles, colors, and shapes out there it can quickly become overwhelming. When it comes to understanding what bras are a must to own, what exactly they are made for, and how to select the perfect size for you, it can be hard to know where to begin!
In this guide, we are breaking down how to select your bra size using our ultimate sizing chart, the top bra styles, and how to create the perfect cleavage. You'll learn about the different levels of support offered by different bra styles, and of course, we can't forget: our very best seduction secret, the sexiest bra you will ever own. From push-up to plunging, pretty or powerful, whatever your bra style do not fret we've got your cleavage covered!
Before you start bra shopping...
Before you start bra shopping...
No matter the style you choose, the fit of your bra is the most important factor you need to consider when lingerie shopping. Your bra should fit well, be comfortable to wear, and provides you with the level of support you need, without the straps digging in or unflattering lumps and bumps. 
In order to do this, get to know your body! Regularly checking your breasts can not only help catch and prevent unwanted lumps, but it will also help you get familiar with your unique and sexy shape to discover what bra style you are looking for, and what you are wanting to achieve. 
Next, we suggest finding your perfect fit with our online size guide, here you will find clear instructions on how to measure your bust and select your bra size.
Choose your style
Secondly don't settle for boring! Even the everyday bra can be fun and sexy. Life is too short for boring bras! To set you apart from the rest, Frederick's offers a wide range of colors and patterns. Ranging from sultry lace to wild leopard we have a style to suit even the boldest of babes. We believe even down to your bra should be an expression of that sexy, unique, and beautiful personality of yours.
Everything from the strapless bra to the bralette
Below we have carefully selected bras for every occasion! Whether you want to spice things up in the bedroom, enhance what your mama gave you or simply need a staple strapless bra for that first date, we've got you a Bra to meet every desire. Read on to discover the 5 best Bras that every woman must have in their lingerie collection!
push up bras
Now let's get down to the juicy part, what bra is going to suit those melons! Starting off with a cult classic and a top-drawer staple is the push-up bra. The modern push up bra was invented by our very own Fredericks of Hollywood! Created to achieve a fuller bust look, push up bras have built-in bump pads that create your highest sitting cleavage, ensuring all eyes are on you.
bralettes
Maybe you're more of a natural babe? Then a Bralette is just the thing! Bralettes provide a more natural shape, that is lightweight and comfortable but seriously sexy. Perfect for those leisurely lounging days or to add a bit of spice to your outfit this is a fabulous alternative to the typical bra. 
Letting your lacy bralette peek through your blouse on date night is guaranteed to drive your partner wild.
Underwire Bras
Although nothing beats whipping it off at the end of the day, an underwire bra is an absolute wardrobe staple. Underwire bras provide shaping and keep the girls up, without the added padding. They are the perfect middle ground between a push up bra and a more relaxed style like a bralette. 
With the right underwire bra, you can give your assets a defined shape with a more subtle lift for everyday wear.
plunge bras
Guaranteed to take you center stage, the plunge bra is the ultimate lingerie piece for those steamy rendezvous. A plunge bra helps to create the perfect cleavage and is perfect for wearing with low cut shirts and tees.
strapless bras
So you found the perfect dress for a party, you still need the support but need to hide those pesky straps? A strapless bra is what you need. Our strapless bras are the perfect solution without being boring. Don't worry, strapless can still be sexy, babe.
the sexiest bra in your underwear drawer
So, you've got all the bases covered and a bra for every occasion. Now you just want to know the sexiest bra every woman absolutely needs in your underwear drawer. Introducing your secret weapon…the open cup bra. Yes, it is exactly as it sounds! A sensual bra with an open cup that exposes those showstoppers, all while the underwire and clever design provides all the support and lift you need. Totally irresistible!
level up your lingerie game with fredericks
So now you know the facts, the must-haves, and the seduction secrets, the next step is to see what is missing in your own collection. Whether it be the push-up or plunge bra to draw all eyes to you, a bralette or underwire bra to show-off and tease, a strapless bra to go with that sexy slinky dress, the unforgettable open-cup bra to steal the show, or even a complete collection refresh! 
You can find everything you need right here to have the most convertible bra collection yet. So now it's time for you to invest in your best assets and get ready for that irresistible new bra feeling with your new favorites at Fredericks of Hollywood!
More from show & tell